The Museum of Childhood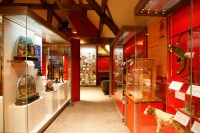 Museum of Childhood © Conversation By Design Ltd.
When travelling to Edinburgh with children, a trip to the Museum of Childhood is an absolute must and a favourite with adults and children alike. It contains wonderful displays, featuring toys from the past and present and from all parts of the world, as well as displays about other aspects of childhood, including school and sports, health and holidays. The toys fill five floors! All the classics are here, including model railways, hundreds of dolls, and beautiful dolls houses, but there are also more original and unexpected toys, including the ones made at home when money was too short to buy any. While children enjoy playing with the toys, adults will enjoy the feelings of nostalgia at seeing their favourite playthings of yesteryear. Many of the antique toys are kept safely behind glass, but there are some fun interactive exhibits including a puppet theatre, Lego and books to be enjoyed, and a dress-up section. There is no restaurant or cafe in the museum, but there are many lovely places to eat nearby as the Museum of Childhood is on the Royal Mile. There is a delightful museum shop, however, filled with toys, books and games. A great Edinburgh attraction for a rainy day!
Address: 42 High Street, Royal Mile, Edinburgh
E-mail: museumsandgalleries@edinburgh.gov.uk
Website: www.edinburghmuseums.org.uk/Venues/Museum-of-Childhood
Telephone: 0131 529 4142
Transport: Within easy walking distance of Waverley rail station
Opening times: Open Monday to Saturday from 10am to 5pm, and on Sundays from 12pm to 5pm
Admission: Free, but donations are welcome