Our Dynamic Earth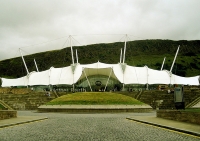 Our Dynamic Earth © SteveR-
Situated at the foot of Edinburgh's beautiful Salisbury Crags, this science centre is a fabulous attraction for children of all ages and adults alike, and aims to educate and inspire visitors to think about our planet and its evolution. Our Dynamic Earth takes visitors on a journey through planetary events like the Big Bang, the history of Earth with dinosaurs and prehistoric landscapes, fascinating natural phenomena like the magical Aurora Borealis and volcanic eruptions, and current important issues like climate change and population growth.
Featuring a number of changing exhibitions, there's always guaranteed to be something new to discover upon each visit to Our Dynamic Earth. Most of the attractions are interactive and many are positively thrilling as well as educational. Take a spin in the G-Force space ball, and explore the many wonders of the world in which we live. Our Dynamic Earth will delight adults as well as children, and is a wonderful Edinburgh attraction for a rainy day.
Address: Holyrood Rd, Edinburgh
Website: www.dynamicearth.co.uk
Telephone: +44 131 550 7800
Transport: Within walking distance of Waverley rail station
Opening times: Open Wednesday to Sunday from 10am to 5.30pm (November to March), open daily from 10am to 5.30pm (April to October), open daily from 10am to 6pm (July and August). Last admission is always 90 minutes before the closing time
Admission: £15 (adults), £9.50 (children aged 3 - 15). Concessions, special deals and cheaper online prices available.