Senckenberg Museum of Natural History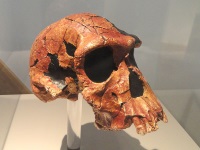 Homo habilis skull © Daderot
One of the biggest natural history museums in Germany and housed in a building which is a UNESCO World Heritage Site, the Senckenberg Museum of Natural History in Frankfurt features extensive exhibits showcasing biodiversity and the evolution of the planet and of life on earth. A popular attraction of the museum is the fascinating palaeontology exhibit which features fossils that date back over 50 million years; dinosaurs simply never go out of fashion with kids. There is also a huge collection of stuffed animals on display.
Children of all ages, and adults, will love exploring this fascinating museum and learning about the solar system and the evolution of life. Some of the labels and descriptions are only in German which is a disadvantage. Despite this, the museum is consistently rated highly as an attraction in Frankfurt by visitors and it is one of the best places to bring kids in the city. There is a nice museum cafe on the top floor where you can get refreshments and light meals.
Address: Senckenberganlage 25
Website: www.senckenberg.de
Telephone: 069 7542 0
Opening times: Monday, Tuesday, Thursday and Friday 9am to 5pm. Wednesday 9am to 8pm. Saturday and Sunday 9am to 6pm. Closed for some public holidays.
Admission: €8 (adults); €6.50 (pensioners); €4 (children and teenagers aged 6 to 15); free for children under 6; concessions available.