Museo del Banco Central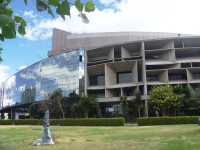 Banco Central, Quito, Ecuador © H3kt0r
One of the few sights in Quito's New City is the round glass-plated building of the Casa de la Cultura. It houses a theatre, a cinema, and two museums, the most impressive being the Museo del Banco Central.
Ecuador's premier museum, it contains an astonishing assembly of religious art, Columbian ceramics and pre-Hispanic gold, and a huge archaeological repertoire. Of particular interest are the ceramics of the La Tolita society (600 BC to 400 AD) and the Gigantes de Bahía.
On show too is the Sala de Oro (an exhibition filled with gold), and the Sala de Arte Colonial, packed with religious paintings and sculptures. English-speakers may find the information provided on exhibits limited, but the artefacts themselves will not disappoint.
Address: Quito, Av. Patria y 6 de Diciembre