Colombo Amusement Park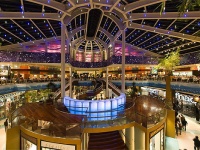 Kids will love the indoor amusement park at the Colombo Shopping Centre, happily entertained by taking rides on the roller coaster, playing video games, going bowling and racing go-carts. The centre also boasts a vast selection of cinemas, restaurants and shops for families to enjoy together.
Address: Centro Colombo, Lusíada Avenue.
Website: www.colombo.pt
Telephone: 217 11 36 36