Vasco da Gama Aquarium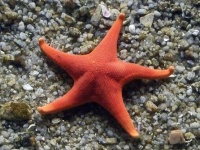 Starfish © Paraflyer
The Vasco da Gama Aquarium is a great attraction for children in Lisbon. This aquarium is home to cute little seals with ears, which all kids will love to see. As well as its wonderful collection of live fish and sea life, there are also preserved water birds, fish and mammals from King Carlos' oceanographic expeditions on display.
The building includes two different sections, the Museum and the Aquarium, complementing each other and allowing you to gauge a better understanding of the aquatic world. Outside, there's a small garden with a lake full of carp, which children enjoy feeding.
Children under 6 go free and between 6 and 17 benefit from reduced prices.
Address: Rua Direita do Dafundo
Website: www.aquariovgama.marinha.pt