El Mitad del Mundo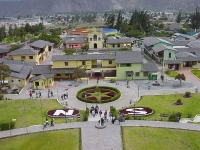 El Mitad del Mundo, Ecuador © Martin Zeise
El Mitad del Mundo, translating to "The Middle of the World", is a purpose-built complex of museums and shops that was constructed to mark the equator, the line that gives the country its name. The 96-foot (30m) high Equator Monument is the focus of the square, topped by a brass sphere representing the world.
A painted line stretches out on either side of the monument marking the equator that divides the world and the complex into northern and southern hemispheres. Also on the square is a set of weighing scales to illustrate the fact that one loses a bit of weight on the equator, being subject to a lesser force of gravitational attraction than usual.
An anthropological museum has interesting displays of Ecuador's indigenous populations and their customs, and there is a scenic lookout at the top as well as a planeterium. Buses leave regularly from Quito for El Mitad del Mundo. There is a small admission price for the complex.
Address: The site is 12 miles (20km) from Quito
Website: www.mitaddelmundo.com