Dr Salim Ali Bird Sanctuary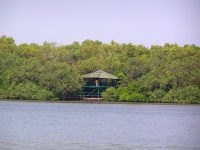 Dr Salim Ali Bird Sanctuary © Elroy Serrao
The Dr Salim Ali Bird Sanctuary is home to around 400 species of birds, both local and migratory. Here visitors can expect to see kingfishers, pintails, coots and egrets, as well as a few crocodiles, jackals and foxes inhabiting the mangroves. Although this is one of the smallest bird sanctuaries in Goa, it is among the most famous in India. The time that you visit is important: the best time to see the migratory birds is after the monsoon season, from October to March; and bird and animal sightings are likely to be better early in the morning. The sanctuary is not a zoo and the animals are in no way enclosed so experiences vary hugely with regard to how much people see. The mangroves themselves are interesting and beautiful and for many nature lovers a boat ride through this unusual landscape is reason enough to visit the sanctuary. If you prefer to explore on foot, guided walks through the mangroves are also available. Bear in mind that you are exploring a swamp and that there will be mosquitoes - insect repellent and long-sleeved clothing are in order. Photography is welcomed but there is a small extra fee for cameras.
Address: Chorao Island, on the Mandovi River
Transport: From the Ribandar dock, visitors catch a ferry to Chorao Island. Tourists should negotiate a cab, auto or bus from Panaji to the dock/ferry.
Opening times: The sanctuary opens at 6.30am every day and closes at dusk.