Folklore Museum of Skopelos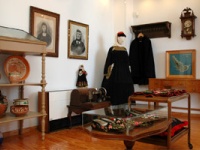 The Folklore Museum of Skopelos is housed in a traditional building, its interior décor reminiscent of Skopelitian homes of the past. The museum exhibits local 19th and 20th century artefacts focusing on three areas of handiwork practiced traditionally in Skopelos: embroidery, weaving, and handicraft work including ceramics, woodcarving, the making of knives and other tools and agricultural implements, and folk art paintings. There are also nautical exhibits and model ships on display, illustrating the proud nautical history of the area. The museum has recreated rooms and outfits to give visitors an idea of how locals lived and looked in centuries past. It is a small but charming museum and should'nt take up much of your time; it is interesting to walk into this old house and become immersed in the belongings and skilled produce of past inhabitants. For those passionate about arts and crafts this is a must. As the collection is modern and not ancient, those tourists who wish to explore ancient Greece need not visit this museum.
Address: Skopelos Town
Website: www.skopelos.net/culture/museum.htm
Telephone: +30 24240 23494
Admission: €3 (adult), free for children under 12.