Otavalo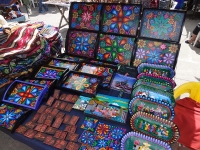 Otavalo, Ecuador © David Adam Kess
Ecuador is famous for its colourful, indigenous markets, and the best known of these is the market at Otavalo. It dates back to pre-Incan times, when jungle products were brought up from the lowlands to be traded for highland goods.
Every Saturday is a wonderful sprawling mix of rich colour, smells, and the sounds of energetic bargaining, an essential part of trade and an art in itself. Spread over three plazas and the surrounding streets, thousands of local otavaleños in striking traditional dress sit among their wares, doing hard business with tourists and locals alike.
The Plaza de los Ponchos is the main area for crafts like woollen blankets, bright ponchos and jerseys, colourful bags and woven tapestries. It is possible to buy almost anything from fresh fruit and rain sticks, to jewellery and dried lentils. First thing in the morning is the noisy animal market on the edge of town where llamas, pigs, horses, and cows are bought and sold after much haggling.