Prinos Streetmarket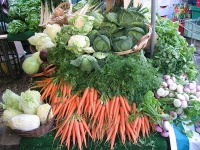 Vegetables © Arnaud 25
Located on the northwest coast of Thassos is the major port town of Skala Prinos. This town is the second ferry port of Thassos after that of Thassos Town. Each Monday morning, the Prinos Streetmarket is a great attraction for Thassos visitors. The market offers a selection of fresh fruit and vegetables, as well as a good assortment of nuts. Leather goods and hardware are also available from the market, as well as shoes, clothes and household accessories. As with most markets of this kind there are seldom changing rooms to use for trying on clothes so shoppers have to try on what they can at the stall, or guess their size. The market is small enough to feel quaint and friendly but large enough to have a good bustle and selection of goods.
Skala Prinos also has some really lovely beaches - shallow, clear, calm waters and pretty white, sandy beaches - which are perfect for children and have great views of the mainland. It is wonderful to pop to one of the beaches after a quick exploration of the market for a refreshing swim.
Address: Prinos, on the west coast.
Website: www.nikana.gr/en/tourist-guide/thassos/shopping/1608/market-day-prinos