Museum Theologos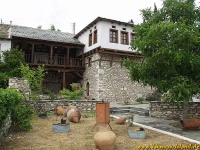 The history of Thassos is uncovered at the Museum Theologos, set in an old mansion that was the home of the mountain village's former mayor, Mr Chatzigeorgiou. The mayor played an essential role in the revolution against the Turks that took place on the island in 1821. Exhibits include displays of olive presses, flour mills, tools, looms and chests from the 18th century, as well as some wonderful pictures.
The museum is only one interesting aspect of this fascinating old town, situated up in the mountains. It is worth visiting just to stroll through the picturesque streets and stumble over all the evidence of antiquity. Theologos used to be the most important village on the island and was both the poiltical and economic centre of Thassos, which is why the museum is situated here. Theologos was declared a cultural capital by the Greek government in 1979, which means that construction or alteration to existing buildings is limited to preserve the authentic old architecture. The village has also preserved many folk traditions and still produces its own olives, vegetables, alcohol and lamb, so that when you have a meal at the local taverna you will almost certainly be eating local produce.
Address: Theologos
Opening times: Open daily 10am-8pm.
Admission: €3 (adult), free for children under 16