Marathonisi Island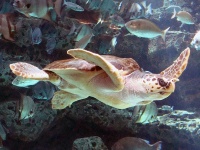 Loggerhead © Mike Gonzalez
Marathonisi is a small island in Laganas Bay, completely unspoilt by human inhabitants. There are two main beaches on this island: the white sands of the larger beach are the nesting area of the endangered Caretta Caretta (Loggerhead) sea turtle; and the smaller pebble beach is home to a couple of interesting sea caves. You can swim into these caves, or paddle a boat around them, and they create a snorkeller's paradise. The Monachus sea seal, also an endangered species, also visits the island to reproduce and visitors may even be lucky enough to see some of these rare animals. The natural pine, olive and green oak forests on the island are another beautiful attraction. There is no development on the island, which is part of the National Marine Park, and visitors are advised to take water and supplies for the day. There is a little picnic snack boat which circles the island and provides refreshments to visitors but it is best to assume you'll be fending for yourself so long as you are on the deserted island. The National Park ensures that the beach is empty of people by sunset so that the turtles, who come ashore at night, are not disturbed.
Address: Laganas Bay, across the beach from Keri village.
Transport: Boat from Keri beach and Agios Sostis port.