Gunung Batur Volcano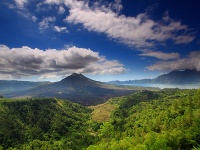 The still-active Gunung Batur volcano is known as Bali's second holiest mountain and symbolises the female element of the island, while the male element is symbolized in Gunung Agung, a neighbouring smaller volcano. A great place for hikers to stretch their legs, the walk up Mount Batur is not easy, but the views are spectacular and if you're lucky you might even spot a few monkeys along the way. Ganung Batur rises from a volcanic crater which also contains a lake and the view of this otherworldly landscape from the crater rim is spectacular - look out for the black lava flows on the western side of the mountain from this vantage. There is also a great lookout point for those who'd rather hire a car and drive to the old crater rim overlooking Lake Batur.
The sunrise walks are recommended; sunrise is a magical time on the mount and a special opportunity for photographers. The best time to hike up is before dawn, at about 5:30am, because by 7am it is already getting very hot. Unfortunately, those visiting during the rainy season may be unlucky with the views as visibility is often poor. There is a guide hut at the bottom of the path and when you pass they usually insist on your taking a guide for safety. If you want a guide then this arrangement is convenient but the hut can be avoided by taking alternative paths and it is safe to ascend on your own.