Bali Bird Park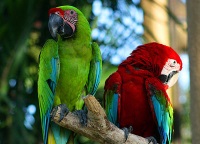 Macaws © Andrea Lawardi
Featuring a large and spectacular collection of birds, the Bali Bird Park boasts more than 1,000 birds of about 250 different species. Kids will love spotting their favourite birds and learning about the exotic species they have never encountered before. Birds such as Macaws, peacocks, parrots, white herons and many more can be seen. The park is divided into regions that recreate natural habitats for the birds, complete with indigenous plant life and other artefacts from the region in question; regions represented in the park include Bali, Papua, Java, Sumatra, South America and South Africa. Visitors stroll through giant aviaries on winding pathways and bridges under a jungle canopy and through various landscapes and there are several special vantage points for spotting birds. In the Guyu-Guyu Corner you can experience the creatures in close contact, with birds perching comfortably on your shoulders or in your hands. Visitors can also participate in park feeding times (these times are subject to change - check the website or contact the park for details). A Free Flight Bird Show showcases various birds in flight. The bird park also features a restaurant, café and gift shop for visitors to get refreshments and take home a souvenir. The experience should delight the whole family.
Address: Jl. Serma Cok Ngurah Gambir, Singapadu, Batubulan
Website: www.bali-bird-park.com
Opening times: Daily 9am-5:30pm.
Admission: US$26 (adults); US$13 (children). Both costs exclude tax.