Sacred Monkey Forest of Padangtegal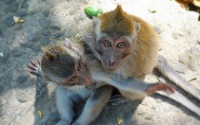 Balinese long-tailed macaques © Farley Roland Endeman
Featuring more than 115 species of trees, many of which are considered holy and used in various Balinese spiritual practices, the Monkey Forest in Ubud is a fantastic place for kids and adults to spend the day exploring. The forest is seen as a marriage of nature with human endeavour and is considered a sacred place - in Balinese culture it is not just the temples which are considered holy but the surrounding gardens and forests as well. Traditionally monkeys are often seen as guardians of temples and are thought to ward off evil spirits. Children can see the Balinese long-tailed Macaques up close as they scramble through the forest of banyan trees and lush tropical vegetation. There are about 600 macaques in the forest which move in four distinct troops. Evidence suggests that although these monkeys can live in developed areas like villages their survival ultimately depends on the conservation of their natural forest habitat because people tend to eradicate them when they interfere with farmlands, crops and food.
There are also a few temples to explore while visiting the forest: the Bathing Temple seems like part of its natural environment and feels magical; the Cremation Temple is interesting and a good place to learn about Balinese Hindu burial traditions.
Address: Jalan Monkey Forest, Padangtegal, Ubud
Website: www.monkeyforestubud.com
Opening times: Daily 8:30am to 6pm.