The Giraffe Centre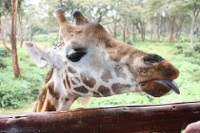 Giraffe © Maria Hagglof
Experience giraffes up close and personal at this wonderful centre dedicated to the preservation of the endangered Rothschild giraffe. Not only can you watch them from very close but visitors can experience the rare pleasure of hand-feeding these graceful and gentle creatures from a platform at eye-level with the animals: you can touch them, have them take food out of your hands, or even put a pellet in your mouth and enjoy a sloppy giraffe kiss! The photo opportunities are simply superb. You can also enjoy the nature walk in a lovely area with 160 species of bird and some amazing trees. There are warthogs and giant tortoises to meet as well. This is the single best attraction for children in Nairobi and there are often groups of school kids that come for tours. Guides at the centre give educational talks and answer any questions you may have. Betty and Jock Leslie Melville founded the Giraffe Centre in 1979 to preserve the Rothschild giraffe of which only 120 remained in existence; it is a non-profit organisation and all fees go towards the conservation of these wonderful animals. The manor house on the estate is very charming and a popular venue for weddings and other events.
Address: Giraffe Centre, Duma Road, Nairobi
Website: www.giraffecenter.org/
Telephone: 020 8070804
Opening times: Daily 9am to 5pm.
Admission: KES 1000 (adults), KES 500 (children).