Karen Blixen Museum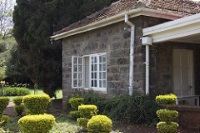 Karen Blixen Museum © Fiona Bradley
Karen Blixen was a notable Kenyan personality who lived and farmed on the outskirts of Nairobi from 1917 to 1931 when she returned to Denmark bankrupt and heartbroken at being forced to leave Africa. Writing under the name Isak Dinesen she authored acclaimed books including Out of Africa which inspired an Oscar winning film of the same name. The main building of the original farmhouse, M'Bogani House, now houses the Karen Blixen Museum and retains much of its original furniture and other photographs and items of interest. The museum is situated in the suburb of Karen, a short drive from the city centre.
Those who have seen the much-loved movie, starring Meryl Streep and Robert Redford, may also be curious about the Muthaiga Country Club featured in the film: tourists can visit the original clubhouse, which is still active, but women won't be allowed in the members' bar - Karen Blixen is, to this day, the only woman who has been allowed to drink there. Fans of the movie should also note that although it was designed to look like it, the house in the film is not M'Bogani House. The stunning landscapes of the area, however, will be instantly recognisable.
E-mail: karenblixen@museums.or.ke
Website: www.museums.or.ke
Telephone: 020 8002139
Opening times: 09.30am to 6pm daily, all year.