Church Tower of Shandon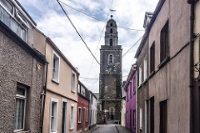 The Four Faced Liar © William Murphy
Positioned on a hill overlooking the River Lee, the Church Tower of Shandon (Old Fort) is possibly Cork's most famous landmark. The red sandstone and white limestone tower is crowned by a large, salmon-shaped weather vane. It was built in 1722, making it one of Cork's oldest buildings, and is still perfectly preserved. The Church of St Anne is famous for its bells, which inspired the song 'The Bells of Shandon', and also for its clock, which is referred to as 'the four-faced liar' because each of its four faces reads a different time. Visitors can ring the famous bells on a visit to St Anne's and view the internal workings of the clocks.
The views of the city from the bell tower's balcony are stunning. The staircase up to the top of the tower gets quite narrow, which is a delight for some but perhaps shouldn't be attempted by the claustrophobic. The church itself is also a joy to explore for those who are interested, and the people who work there are very helpful and friendly. The church is located in the historical section of the city, so a visit can be combined with a stroll through the charming old area, which has many other attractions.
Address: Church of St Anne Shandon, Church Street
Website: www.shandonbells.ie
Telephone: +353 21 450 5906
Transport: It's a 5-10 minute walk from the city centre. Tour buses stop here too.
Opening times: June to September: Monday to Saturday 10am-4pm, Sunday 11:30am-4:30pm. March to October: Monday to Saturday 10am-4pm, Sunday 11:30am=4pm. November to February: Monday to Sunday 11am-3pm.
Admission: Adults €5, Students and Seniors €4, Children (5-16) €2.50. Concessions available.