Louisiana Children's Museum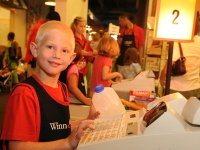 Winn-Dixie Cashier © Louisiana Children's Museum
The Louisiana Children's Museum offers kids a vast selection of exhibits, art activities and educational programmes to help make learning fun. The kid-sized Winn-Dixie grocery store is a favourite, as are the climbing wall and the giant bubble that kids can play in. Eye to Eye has fun showing the workings of the human eye, and Art Trek features drawing, painting and sculpture lessons.
Address: 420 Julia Street
Website: www.lcm.org
Telephone: (504) 523 1357
Opening times: Tuesday to Saturday 9:30am-4:30pm, Sunday 12pm-4:30pm (September to May); Monday to Saturday 9:30am-5pm, Sunday 12pm-5pm (June to August). Closed major holidays.
Admission: $8