Storyland and Carousel Gardens Amusement Park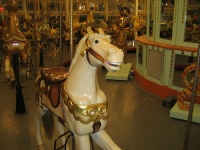 Carousel Gardens © Infrogmation
Kids in New Orleans love Storyland and the Carousel Gardens Amusement Park. Storyland is a fairytale theme playground featuring 25 larger-than-life storybook attractions such as Captain Hook's pirate ship and an imitation whale from Pinocchio. Carousel Gardens Amusement Park, right next door, always draws a crowd to its traditional wooden carousel, bumper cars, lady-bug roller coaster and miniature trains, amongst its 16 rides.
Address: City Park, Victory Ave
Website: neworleanscitypark.com/carousel_gardens.html and www.neworleanscitypark.com/in-the-park/storyland
Telephone: 504 483 9381
Opening times: Carousel Gardens: March to May on Saturday and Sunday 11am-6pm, May to August Tuesday to Thursday 10am-5pm, Friday 10am-10pm, Saturdays 11am-10pm, Sundays 11am-6pm. August to November Saturdays and Sundays 11am-6pm. November to January Sunday to Thursday 6pm-10pm, Friday and Saturday 6pm-11pm. Carousel Gardens is closed for January and February. Storyland: Tuesday to Friday 11am-4pm, Saturday and Sunday 11am to 5pm.
Admission: Carousel Gardens: $3, rides $3 each. Admission and unlimited ride wristband $20. Storyland: $3.