Prague Toy Museum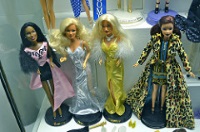 Prague Toy Museum © Sarah Ackerman
Housed in the Old Count's Chambers of Prague Castle, the Toy Museum is a wonderful attraction for kids, and is endlessly captivating for adults. The museum contains several exhibition rooms, takes up two floors, and is said to be the second biggest collection of its kind in the world. There are displays of playthings from across the globe and across the centuries, with some of the artefacts dating as far back as Ancient Greece. The museum's comprehensive Barbie collection is chronological and displays the changes in fashion that Barbie has undergone over the generations. Unsurprisingly, the Barbie collection is a favourite with little girls. Other highlights include the mechanical toy trains and the huge collection of teddy bears. There are also traditional Czech dolls and toys, which offer some fun insight into the culture. This is a great attraction for the whole family and it is consistently popular with visitors to Prague.
Address: Jioska 4, Prague 1
Telephone: +420 224 372 294
Transport: Tram 22 to Prazsky hrad.
Opening times: Open daily 9.30am to 5.30pm
Admission: CZK 70. Concessions available.