The Underwater Observatory Marine Park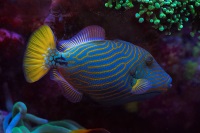 The Underwater Observatory Marine Park © Israel Tourism
The Underwater Observatory Marine Park lies just south of Eilat and is conveniently close to Tel Aviv. Visitors can view a fantastic range marine life in its gigantic, seawater aquarium. Animals such as eels, sharks, turtles and stingrays are part of the population, while the rare-fish aquarium is home to some exquisite (and poisonous) fish.
The Red Sea is renowned for its colourful reefs and rich marine life. The Marine Park's unique Underwater Observatories allow visitors to really immerse themselves in this underwater world, and see reefs and animals in their natural environment.
Visitors can also look forward to daily feedings, with shark feedings typically drawing the most attention. All feedings are accompanied by some information on the species and their eating habits.
The Marine Park is a great stop for kids.
Website: http://www.coralworld.co.il/en/