The Underwater Observatory Marine Park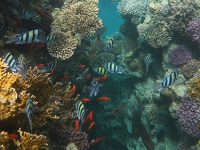 Visitors to the Underwater Observatory Marine Park, just south of Eilat and conveniently close to Tel Aviv, can enjoy viewing all kinds of fantastic marine life in the gigantic 360,000-litre seawater aquarium. Animals such as eels, sharks, turtles and stingrays can be seen, while the rare fish aquarium is home to some exquisite (and poisonous) fish. The Red Sea is renowned for its colourful reefs and rich marine life and the most unique facility of the Marine Park are the two one of a kind Underwater Observatories which allow visitors to really immerse themselves in the underwater world and see the reefs and animals in their natural environment. There are daily feedings to look forward to; the most popular of these is the daily hand feeding of the sharks which is a big draw for lovers of predators. You can also witness the feeding of the turtles, the baby turtles, the rare fish and the stingrays and all the feedings are accompanied by some information on the species and their eating habits - check the website for details on all the different feeding times. The Marine Park also has a kids club for younger visitors where they can learn about the wonders of the ocean and enjoy all sorts of fun activities.
E-mail: info@coralworld.com
Website: www.coralworld.com/eilat/eng
Telephone: (02) 8636 4200
Opening times: Open daily, from 8.30am to 5pm (till 4pm on Fridays and holiday eves).
Admission: NIS 89 (adults); NIS 69 (children and senior citizens).