Andasibe-Mantadia National Park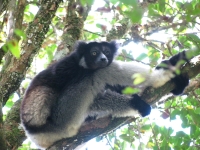 Indri lemur © Karen Coppock
The Andasibe-Mantadia National Park situated in the eastern rainforests is Madagascar's most popular reserve for good reason. The park contains unique wildlife, including 13 species of lemurs, more than a hundred bird species and fauna and flora unique to the area. Andasibe has two sections. The more accessible of the two is the Indri Special Reserver. Here, visitors can take a hike at dawn to hear distinct siren-like Indri call over the misty and observe the lemurs in their natural habitat.
The second section of the park, Mantadia, has a greater variety of wildlife and a more challenging trail for the adventurous. Night hikes allow guests to see a whole new side of the forest as nocturnal animals emerge. Hikes in the park range from three to six hours. A local guide is required for entry into the park. Private tours need to be booked in advance.
Telephone: +261 33 14 440 31
Transport: The Andasibe-Mantadia National Park is easily accessible from the capital Antananarivo. A three hour drive along the Route National 2 will bring you to the reserve.
Opening times: Open daily 6am-4pm