Camera Obscura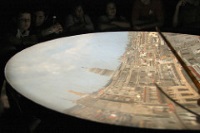 Camera Oscura © Brian Snelson
A Camera Obscura is a dark room in which a lens and a series of mirrors reflect images of exterior surroundings onto a concave surface. Leonardo da Vinci first described such a camera in 1490. The Camara Obscura in Havana is in the old city, on the corner of Plaza Vieja, and it offers spectacular 360-degree views over the city of Havana from a telescopic lens located atop a 115-foot (35m) tall tower.
Guides give ten-minute tours of the old city and the bay, using the camera to point out special places, architectural highlights and Old Havana's attractions. Some of the guides also use the camera to spy discreetly on people in the area in a very entertaining way; it is a great opportunity for people watching! The guides have various language skills and it is not difficult to find one that speaks English.
If you are travelling with kids in Cuba then the Camera Obscura is a great activity; children love the camera and the feeling of being a spy with access to a whole city. Apart from the camera tour you also gain access to a roof garden which is a nice spot from which to take photographs.
Address: Corner Mercaderes and Brasil, Habana Vieja
Website: www.netssa.com/camera_obscura.html