Parque Nacional Alejandro de Humboldt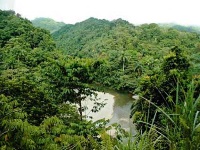 Parque Nacional Alejandro de Humboldt © Antonio Nunez Jimenez
This UNESCO World Heritage Site is located in the Cuban provinces of Holguín and Guantánamo, and features an impressive selection of flora and fauna, such as parrots, lizards and hummingbirds, which are unique to the area. The amount of endemic species in the park has made it one of the most valuable areas in the world for research and conservation.
The area is said to be the most humid place in Cuba and this, in addition to the incredibly varied topography, may well be a factor in encouraging the diversity of species. The region has seen very little habitation by humankind and it remains a remarkably unspoiled wilderness area. In fact, it is widely hailed as the most important nature reserve in the Caribbean.
The well-visited park is a firm favourite among young travellers to Cuba, and regularly features on lists of the best things to do with kids while in the country. It should appeal to all ages: who can resist pristine waterfalls and stunning natural rock pools to swim in? A guide is compulsory when touring the reserve. Although it is a few hours from Santiago de Cuba by bus or car to this incredible park it is a worthwhile excursion and makes for a wonderful weekend getaway.