Aquaventure at Atlantis Paradise Island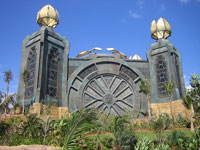 Aquaventure in the Atlantis resort on Paradise Island is the Caribbean's largest waterpark, featuring dozens of thrilling water slides and a mile-long river ride with rapids incorporates special effects into the rides, adding to the experience. A unique feature of the 97-acre park is the interconnecting rides: guests can go from one attraction to the next on rivers, water escalators, and other systems without ever leaving their innertubes. Some of the rides include the Leap of Faith, a nearly vertical 60 foot drop that ends in a clear water-filled tank submerged in a shark-filled lagoon, the Abyss, a 58 foot near-vertical drop through darkness followed by many twists and turns, the Surge, an inner-tube ride that mimics a flash flood, and many more. For young children, there is the Jungle Slide, a simple twisting slide featuring jungle-like scenery, and the Splashers, a Mayan-themed set of pools and water-based playground. When visitors get tired of the water, there are other activities available like rock climbing, with instructors present to guide and teach. The park is accessible to guests of the Atlantis resort as part of their resort fees, and the adjacent Comfort Inn have access as well. Tickets are sold to the public based on availability; when the resprt is very full, no tickets are sold to the public.
Address: Atlantis Resort
Website: www.atlantis.com/thingstodo/waterpark.aspx
Telephone: 242 363 3000
Opening times: 9am to 5pm
Admission: Admission is free to registered hotel guests.