Dolphin Encounters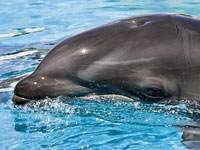 For all animal lovers, Dolphin Encounters is a once in a lifetime opportunity. Visitors will get the chance to swim with the bottlenose dolphins, get a kiss, or just watch from the side. There are also opportunities to interact with sea lions, who were brought to the island from Louisianna after their previous home was destroyed by Hurricane Katrina. Dolphin Encounters is based on Salt Cay, roughly 3 miles (4.8km) northeast of Paradise Island. To start off a visit to Dolpin Encounters, visitors are taken on a 20 minute ride on a catamaran from Paradise Island to Salk Cay, and whileon the catamaran visitors are given the chance to see the dolphins' natural habitat. After the catamaran ride and once on the island, visitors are taken to the Dolphin Encounters centre where it's possible to meet with one or more of the centre's dolphins or sea lions. The centre makes provision for those who are nervous swimmers and even those who can't swim at all, providing plaforms for visitors to stand on inside the dolphins' pools. In addition to vistors' encounters with dolphins, there are also dolphin shows when the dolphins are given the chance to show off the many tricks they've been taught. Dolphin Encounters is happy to host groups and birthday parties.
E-mail: info@dolphinencounters.com
Website: www.dolphinencounters.com
Telephone: 242 363 1003
Opening times: Departure times are 8:30am, 10:30am, 10:30pm and 3:30pm
Admission: $80 - $185 per person for the programmes, $25 for observers (includes round-trip transportation by large catamarans to Blue Lagoon Island).