Tobacco Auction Floors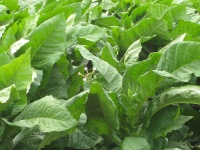 Tobacco © minnemom
Tobacco plays an integral part of life in Malawi and a visit to the Tobacco Auction Floors in Lilongwe is a great way to see this industry at work. There is a public gallery overlooking the tobacco sales floors at the Auction Holdings warehouse, a structure which is comparable in size to several large aircraft hangars. At the auction floors, visitors can experience the incessant hum of auctioneers selling tobacco to the highest bidder as the group moves slowly along the extensive rows of tobacco bales.
Address: Plots 29 - 78, Kenango Industrial Area (7km north of the city centre)
Website: www.ahlmw.com
Telephone: +265 (0)1 710 377
Opening times: May to September, Monday to Friday.