Likoma Island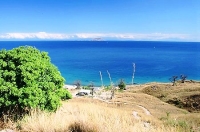 Likoma Island © Worldtraveller
Likoma Island is an isolated enclave of Malawi, completely surrounded by Mozambican waters, and was colonised by Anglican missionaries in the late 1800s. This island is a popular holiday destination, with beautiful beaches and iconic African scenery featuring baobab trees and open grasslands.
One of the main man-made attractions on the island is the Anglican Cathedral, a large structure in the main town of Mbamba that was built out of stone by the missionaries in 1903. The beautiful, upmarket Kaya Mawa Hotel dominates the tourist trade on the island.
The more budget-friendly Mango Drift Backpackers is also a popular choice, with a couple of guesthouses available. There are very basic dirt roads spanning Likoma Island, but most places can be reached on foot. The island's electricity, supplied by generators, is usually switched off at about 10pm each night.