Art Nouveau Architecture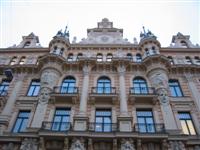 Classic Jurgendstil architecture © David Fair
The city of Riga contains the highest concentration of Art Nouveau architecture in the world. Otherwise known as Jugendstil, some of the buildings in central and downtown Riga date as far as the late 19th century. The style is characterised by unusual shapes, curved and organic arches, gargoyles, carved faces, and flamboyant cornices. Over 30 percent of central Riga's buildings were created in this style, many supervised by famous Russian architect Mikhail Eisenstein. The best streets to view buildings on are Elisebetes, Strelnieku, and Albert. The Riga Art Nouveau Centre, located in central downtown, has been furnished in the Art Nouveau style allowing visitors to fully immerse themselves in the early 20th century.
Address: Albert St 13, Central District
Website: www.latvia.travel/en/article/art-nouveau
Telephone: +371 80 000 800
Opening times: Open 24 hours a day.