Riga Motor Museum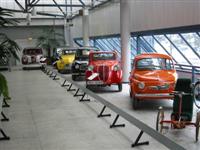 Riga\'s Motor Museum © David Fair
What is undoubtedly eastern Europe's finest motor museum is tucked away on the outskirts of Riga, and makes for an essential outing if you enjoy classic cars and Soviet history. The museum contains Molotov's limousine, Stalin's bombproof sedan, and the wreck of Brezhnev's car in which he crashed. The model dummies in the vehicles are a nice touch. There is a priceless collection of classic sports cars and motorcycles, irresistibly photogenic for petrol heads.
Address: Sergeja Eizenšteina iela 8, Vidzemes priekšpilsÄ"ta
E-mail: info@motormuzejs.lv
Website: www.motormuzejs.lv
Telephone: +371 67 02 5888
Opening times: Open daily from 10am to 6pm.
Admission: LVL 1.50