Western Desert Oases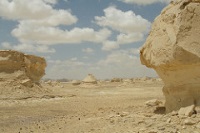 The White Desert © Vyacheslav Argenberg
From Cairo it is possible to experience Egypt's finest journey on offer, the Great Desert Circuit. It runs for over 621 miles (1,000km) through spectacular desert landscapes and is punctuated by four oases situated in a depression: Bahariya, Farafra, Dakhla and Kharga. The first two have hot springs and palm groves, Farafra being the more traditional and rural of the two.
To experience the remoteness of the desert travellers can spend an unforgettable night in the White Desert between oases. Dakhla and Kharga are surrounded by old ruins and villages from the times of the ancient caravan routes to Sudan. The Great Desert Circuit is a fascinating journey and really allows travellers to grasp the enormity of the Egyptian desert and appreciate the history of exploration in the region. The roads are in good condition, with hardly any traffic on them, and the whole circuit can be done in anything between 16 hours and a week (you can linger as you please). Some of the oasis towns are lovely places to spend a night before setting off on your road trip again.
Transport: The circuit takes between a day and a week depending on desired schedule and can be travelled using public or one's own transport, or visitors can book a tour. It is also possible to hire a local guide with a 4x4.