Pirates Day Adventure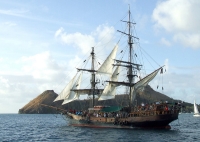 The Brig Unicorn © size4riggerboots
Children will go mad for this exciting tour aboard the Brig Unicorn, the actual boat from the Disney Pirates of the Caribbean movies. The 140-foot (42-metre) replica of a 19th-century tall ship takes passengers from St Vigie Cove sailing south towards Soufriere into the open waters to explore the mystical Caribbean Sea, where lucky sailors will even get to experience the ship's cannon being fired, walk the plank or swing into the sea from the ship's ropes. The ship drops anchor at Pigeon Island, where old ruins can be explored. Lunch and drinks are served on the cruise back to St Lucia. Booking is essential.
Website: www.seaspraycruises.com
Telephone: 758 458 0123
Opening times: Tour lasts 8:30m-4pm, dates vary according to season.
Admission: US$110 adults, US$50 children 2-12.