Diamond Waterfall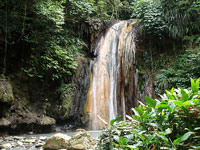 Diamond Waterfall © Mary-Lynn
Located in the Diamond Botanical Gardens, the Diamond Waterfall is a popular attraction and a great walk for the whole family. This waterfall is created by the water from the bubbling sulfur springs of the Diamond Mineral Baths and changes colours a few times a day, from yellow to black, then green and finally grey.
Address: Diamond Botanical Gardens, Soufriere Estate, Soufriere
Website: www.diamondstlucia.com
Telephone: 758 459 7565
Opening times: Monday to Saturday 10am-5pm; Sundays and Public Holidays 10am-3pm.