Temple of Karnak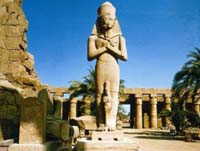 The main place of worship in Theban times, and built over a period of 1,300 years, the massive Temple of Karnak in Luxor is an incredibly impressive structure. It was known as Ipet-isut, the most select of places, to the ancient Egyptians and it is one of the largest religious buildings ever erected. One of the world's great architectural achievements, the Hypostyle Hall, is filled with immense stone pillars still bearing the engraved and painted inscriptions from the 12th Dynasty, and covers an area of 64,583 square feet (6,000 sq metres). The complex also contains the Avenue of the Sphinxes, the Sacred Lake, and many huge statues, halls, ornate wall murals, obelisks and colonnades. One of the lesser known attractions of this vast temple complex is the small Temple of Ptah, hidden on the northeastern boundary. It is very special because the room is intact - giving a realistic sense of what the dark temple interior would have felt like in ancient times - and a statue of Sekhmet remains in place, lit up by natural light. The place can be a bit overwhelming without a guide, or at least a good guide book, so be sure to either hire someone or do your research to fully appreciate the wonders of Karnak.
Opening times: Daily 6am to 5pm.
Admission: LE 65 adults; LE 35 students.