Bermuda Maritime Museum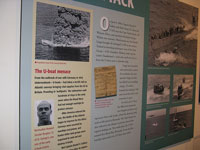 Displaying over 500 years of maritime history, the Bermuda Maritime Museum is a wonderful place to take the kids for a day out in Bermuda. At the museum you can find out about Bermuda's discovery and early settlement through a collection of 16th- and 17th-century shipwreck artefacts recovered from local waters. Kids will love the canons and displays, keeping them entertained for a good few hours.
The Museum is located at the western end of Bermuda at the old Royal Naval Dockyard. Follow Dockyard directional signs to find the Maritime Museum inside the large fort at the far end of Dockyard. Ferries run regularly between Hamilton and Dockyard, and between Dockyard and St. George's.
Address: Old Royal Naval Dockyard, St George's Town
Website: www.bmm.bm