Bermuda Railway Trail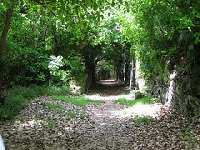 Bermuda used to have a railway that served the island's eastern and western cities between 1931 and 1948, but in 1984, the government opened the Bermuda Railway Trail as a public walking trail and bridle path. A great way to spend a few hours with the kids, the trail can also be cycled, ridden on horseback or even roller-bladed in certain areas.
This 21-mile (35km) trail is a great way to see the island's natural flora and fauna and to experience some breathtaking views and do a spot of bird watching. Organised walking tours available.
Website: www.bermudarailway.net