Vancouver Aquarium Marine Science Centre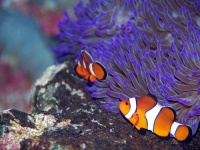 Clown fish © Robert Young
Home to a vast array of aquatic mammals and animals, at the Vancouver Aquarium Marine Science Centre you'll find sea otters, penguins, dolphins, sharks, whales, sea lions and many more exciting creatures.
Exhibits, displays and programmes are geared towards kids, including Clownfish Cove, with small animals, play areas, and costumes aimed at teaching children about the natural world and the importance of marine conservation.
The aquarium features a gift shop, cafeteria, and wheelchair access. Visitors of all ages should enjoy a trip to this well-organised and large aquarium, which consistently receives rave reviews from travellers.
Address: 845 Avison Way, Vancouver
Website: www.vanaqua.org
Telephone: 604 659 3474
Opening times: Summer (21 June to 1 September): Open daily, from 9.30am to 6pm; Winter (6 September to 24 June): Open daily, from 10am to 5pm
Admission: Summer: C$38 (adults), C$21 (children). Other concessions are available