Greater Vancouver Zoo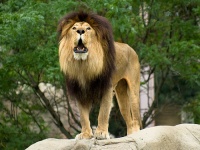 Lion © Corey Leopold
Animal lovers of all ages will have a fabulous time exploring the Greater Vancouver Zoo. Boasting more than 500 animals from about 140 species, including lion, giraffe, black bear, bison, spider monkeys, coyotes, cheetah, hippo, lemurs and caracals, just to name a few.
Children will simply love watching all the animals and naming the ones they know. Kids can enjoy meeting a selection of reptiles, taking the safari mini train, listening to an educational talk, or even watching the lions and tigers being fed. Refreshments are available from kiosks and restaurants so nobody will go hungry. Allow at least a few hours to explore the zoo properly.
Address: 5048 - 264th Street, Aldergrove
Website: www.gvzoo.com
Telephone: (604) 856 6825
Opening times: Summer Season (April to September): Open daily, from 9am to 7pm. Winter Season (October to March): Open daily, from 9am to 4pm.
Admission: C$25 (adults); C$19 (children). Concessions are available.