Nubia Museum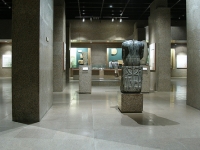 The Nubia Museum in Aswan is an excellent introduction to the history and culture of the Nubians. It contains a collection of artefacts from Nubia (the region approximately between Aswan and Khartoum in Sudan) and an exhibition of Nubian culture and crafts. It also portrays the history and people of the Nile Valley from ancient times until the present, and has a hall full of impressive statues and tombstones from the region. One of the most interesting exhibits is that covering the project of UNESCO to move monuments like Abu Simbel endangered by the High Dam on lake Nasser to higher ground, as you can get an idea of what the area looked like before the floods and how much effort was put into preserving this endangered ancient culture. At the Nubia Museum you can see weaponry, pottery, jewellery, statues and the ever-popular mummies and the exhibits are well organised and laid out and have good English labels. The fact that the museum is well air-conditioned is also a big draw when it is swelteringly hot but if you are busy during the day the late opening hours of the museum mean that it is a good attraction to take in in the evening.
Address: el Fanadek Street (Opposite Basma Hotel)
E-mail: nubiamuseum@numibia.net
Website: www.numibia.net/nubia
Telephone: 20 9731 9333
Opening times: Daily 9am to 1pm and 6pm to 10pm (summer); 9am to 1pm and 5pm to 9pm (winter).