Parc Ivoloina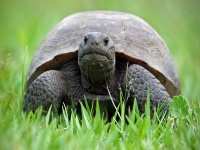 Tortoise © minds-eye
Located just a short drive from Toamasina, which is situated on the centre of the eastern coast of the country, the Parc Ivoloina makes a great day out for all kinds of visitors. In the Zoological Park, visitors can meet more than 100 free-ranging lemurs of 10 species, as well as tortoises, tenrecs and chameleons. There are also many animals in cages, but they are well looked after and it is clear that the guides and animal caretakers take pride in their work and know what they are doing. There are Dugout Canoe tours, nature trails, an education centre and even spectacular gardens to enjoy as well. Visitors can pack a picnic and enjoy the surroundings while learning about Madagascar's indigenous animals, and there are camping facilities for those keen on waking up to the sounds of birds and lemurs by a pretty lakeside campsite. There is also a small shop and snack stand selling some simple souvenirs. Although the park is only about six miles (10km) from the town centre, the road is bad, particularly in the rainy season when mud and water make it difficult to traverse without a 4x4. The route is, however, very scenic and it is interesting to see the small villages along the way.
E-mail: tim@savethelemur.org (include Parc Ivoloina in subject line)
Website: www.seemadagascar.com
Telephone: +2615393168
Opening times: Open daily 9am to 5pm.
Admission: Ar 10,000 (adults); Ar 4,000 (children). Guides and group rates also available.