Mecca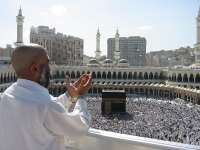 Mecca © Ali Mansuri
As the birthplace of Muhammad and the site of his first revelation of the Quran, Mecca is the holiest city in the Muslim world and is the direction towards which the world's Muslims pray five times per day. The pilgrimage to Mecca as part of the Haj is the centrepiece of Islam's Five Pillars and a peak experience in the life of any devout Muslim. The city, unfortunately, cannot be visited by non-Muslims.
The key sites in Mecca are the Masjid al-Haram, the Grand Mosque, which is the largest mosque in the world and can accommodate one million worshippers; Jabal Rahmah At Arafah, the tall white pillar marking the place where Adam and Eve met after 200 years of separation; and Muzdalifah, where pilgrims pray and collect stones to be used in the Haj rituals. Hira is another important landmark, a cave on the mountain Jabal Al-Nûr where Mohammed received his first revelations from the angel Jibreel.
Mecca is located in the Sirat Mountains, 45 miles (72km) from Jeddah. The city's entire economy depends on the Haj, and the large number of pilgrim immigrants from all over the globe has made it one of the most diverse in the Muslim world. The area is also considered an important archaeological site, with fossil discoveries nearly 30 million years old.