Fun World Amusement Park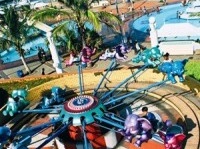 A place of nostalgia for the parents who bring their children here, the Fun World Amusement Park situated on Durban's bustling beachfront provides safe and secure family entertainment that kids of all ages will enjoy. Take the gondola ride to enjoy a scenic view of the beachfront from the air (particularly beautiful in the evening as the lights come on below you), let the older kids enjoy carnival rides such as the Breakdance, Hully Gully, Tilt-a-Whirl or Swingboat, while the tiny tots can get their thrill on in the Elephant Ride or the Carousel. The nearby paddling pools, recently renovated, are a great place for smaller children who are too young for the ocean waves, and kids of all ages can find something to enjoy in the underground arcade. Fun World is relatively safe during the day, but tourists should not walk around in the area after dark. It's close to bus and taxi routes, and nearby to some of Durban's most popular beachfront hotels. Fun World was established in the late 1930s with a miniature steam train track and the place still has an old-world fun fair feel. All visitors to the Durban beachfront should at least experience the iconic gondola ride; those travelling with kids will almost certainly be press ganged into trying out at least a few more rides.
Address: Opposite Marine Parade Holiday Inn on Durban's Beachfront
Website: durbanfunworld.co.za/
Telephone: 031 332 9776/ 304 4934
Opening times: Opening times vary according to season; generally 11am till late.
Admission: Free. There is a charge for individual rides