Gröna Lund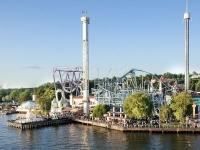 Grona Lund © Grona Lund
Gröna Lund is Sweden's oldest amusement park and an amazing attraction for families. Built in 1883, the park features a number of rides including classics like bumper cars, carousels and ferris wheels of varying thrill levels for adults and children of all ages. There are also several fast-paced roller coasters, including the Jetline and the Twister, and many other high-adrenaline rides to keep adults entertained. Height charts for the rides are available on the park's website so parents can see what is available to their children before going. There is an on-site baby care centre for parents to use. A great selection of restaurants and eateries, ranging from fine dining to buffet and fast food options, ensures nobody will go hungry in the park. Gröna Lund hosts plenty of live music concerts during summer evenings, with some serious performers attracting big crowds. The amusement park only opens seasonally; a calendar detailing opening days and times can be found on the official website listed below. Those likely to be enjoying lots of the rides should buy the ride pass which allows access to all rides all day, because buying the coupon booklets as required usually works out to be much more expensive.
Address: Lilla Allmänna Gränd 9, Stockholm, Sweden.
E-mail: info@gronalund.com
Website: www.gronalund.com
Telephone: +46 10 708 91 00
Transport: Ferry boats operate off Södermalm in the summer, while buses operate regularly from T-Centralen.
Opening times: Open between June and August and for part of May and September. Opening times vary according to season, but in peak summer the park is often open from 10am to 10pm. Confirm opening dates and times on the official website to avoid disappointment.