Eiffel Tower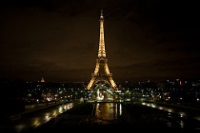 Eiffel Tower by night © Jay Buangan
Gustave Eiffel, the architect of the Eiffel Tower (Tour Eiffel) could never have guessed that it would become Paris' signature sightseeing attraction and attract more than six million visitors a year. It was built as a temporary structure to commemorate the centenary of the French Revolution and was opened by the Prince of Wales, later King Edward VII of England. The Eiffel Tower was considered an eyesore by many and there were petitions to have it pulled down. It was saved only because it had become an important antenna for telegraphy. It towers 984 feet (300m) above the Champ de Mars and until 1930 was the world's tallest building. The highest of its three levels offers a wonderful panoramic view over Paris.
The Eiffel Tower itself has several restaurants, including the popular Le Jules Verne, with panoramic views of the city, and a champagne bar at the very top. There are also several souvenir shops and a carousel at the base. This is a great way to keep children entertained if you plan to go to the top of the Tower, as the queues can be several hours long. A slightly different (and cheaper) way to enjoy the Eiffel Tower is with a picnic on the lawns with the famous structure providing a picturesque backdrop.
Address: Champ de Mars 7
Website: www.tour-eiffel.fr
Telephone: +33 (0)8 92 70 12 39
Transport: RER Champ de Mars-Tour Eiffel station; Metro Bir-Hakeim, Trocadero, Ecole Militaire; bus 42, 69, 72, 82, 87
Opening times: Daily: 9am to midnight (mid-June to early September); 9:30am to 11pm the rest of the year. Last entry is 45 minutes before closing time.
Admission: Lift ticket to 2nd floor: €11 (adults), €8.50 (12 to 24 years). Lift ticket to top: €17 (adults), €14,50 (12 to 24 years). Stairs to second floor €7 (adults), €5 (12 to 24 years). Concessions available.