Great Circus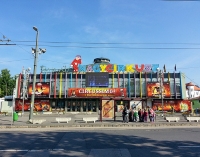 The Great Circus © Thanate Tan
There's nothing kids love more than a circus performance and Budapest offers a fantastic display of this Hungarian tradition. The Great Circus (Nagy Cirkusz) features an array of clowns, animals, jugglers and acrobats of all kinds to keep children happily entertained. Of course, adults should also be enthralled and impressed by the various acts. Many of the performers are world-famous in their field and they do travel overseas to perform as well. MACIVA, or The Hungarian Circus and Variety Ltd., plays an important part in Hungarian cultural life and is one of the oldest cultural establishments of Hungary. It was built in 1954 and has come to be well known around the world. The circus has a school for performing artists and holds circus camps for children who want to learn some of the skills on display. Shows vary and there are special events like parades and festivals at certain times of the year. Show times, availability and prices vary according to the season so please check the website for details; it is possible to book online.
Address: 1062 Budapest, Andrássy út 61
E-mail: maciva@mail.datanet.hu
Website: www.maciva.hu
Telephone: +36 (0)1 344 60 51
Transport: Metro 1 Széchenyi fürdÅ' (Yellow line)
Opening times: Often there are daily shows at 3pm.