Budapest Puppet Theatre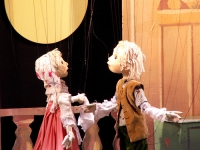 Puppets © Jackie
The Budapest Puppet Theatre (Bábszínház) is a fantastic attraction for children in the city and a great outing for the whole family if you're travelling in Budapest with kids. While the shows are all presented in Hungarian, kids are still enthralled by the enactment of familiar stories such as Cinderella and Snow White, and can often be heard calling out warnings when villains are approaching or encouraging the heroes in their endeavours. It is amazing how little the language barrier matters when it comes to this kind of storytelling.
You can book tickets in advance online but it is also nice to ask for advice, when you get there, about what is showing and what would be best suited to a non-Hungarian audience. The puppets are works of art and come in all shapes, sizes and colours, with some easily recognisable characters and some creative originals. Most adults will enjoy the performances but you can also easily head for the cafe during the show.
Address: 69 Andrássy út
Website: www.budapest-babszinhaz.hu
Telephone: +36 (0)1 321 5200 or +36 (0)1 342 2702
Admission: Ticket prices vary show by show. Check the website for details.