Vidam Park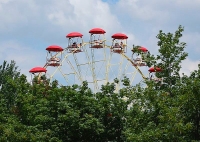 Vidam Park © Chale
Vidám Park is an excellent amusement park for kids in Budapest to visit. The park features a wooden merry-go-round (körhinta) that is over 100 years old, as well as a slow-moving Ferris wheel (óriáskerék) and the longest wooden roller coaster in Europe. There are loads of fun attractions and activities like the Cave Ride, the Jungle Fairy Park, the Magic Bike, Mini Venice, Fire Brigade, Waterdodgem, Magic Castle, Flying Circus, Story Boat, Sky Flyer and Mirror Labyrinth to name a few.
As these names suggest, the park is an imaginative, colourful and creative place which will delight children and keep them amused for many hours. Kis Vidám Park is the neighbouring amusement park for toddlers. There is a gift shop which sells some fun toys and games and a selection of places to eat including a restaurant that offers traditional Hungarian fare and a pizza and pasta joint. Tickets can be booked in advance online to avoid queuing at the venue.
Address: Állatkerti krt.
Website: www.zoobudapest.com/en
Opening times: Hours vary by season; check the website for specific dates.
Admission: Tickets vary in price by attraction.