Camuy River Cave Park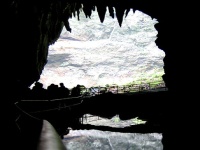 Rail leading out of caves © Jippolito
Children will feel like they are in an Indiana Jones movie when they visit the magnificent Parque de las Cavernas del Río Camuy (Camuy River Cave Park), a large network of natural limestone caves and waterways which can be explored by trolley. The caverns and underground tunnels were created over a million years ago by the tropical Río Camuy (Camuy River), which is the world's third-longest underground river and is home to a unique species of fish that is totally blind.
Only three crater-like sink holes and two caves are open to the public, which are reached by a guided trolley that descends into a sinkhole lined with dense tropical vegetation. Kids will love the spacious grounds of the park, which include a cafeteria, picnic area, gift shop, walking trails, exhibition hall, and theatre. One of the country's most talked-about tourist attractions, the Camuy River Cave Park is an excellent addition to any Puerto Rico holiday itinerary. Visitors should note that it is best to go early in the day, as the park closes once its 1,500-person capacity is reached.
Address: Arecibo
Telephone: (787) 898 3100
Opening times: Open Wednesday to Sunday 8:30am-4pm. Last tour departs at 3:30pm.